Search Engine Optimization (SEO)
SEO is a digital marketing tool which increases your website's rank by implementing SEO techniques and principles in order to improve your business.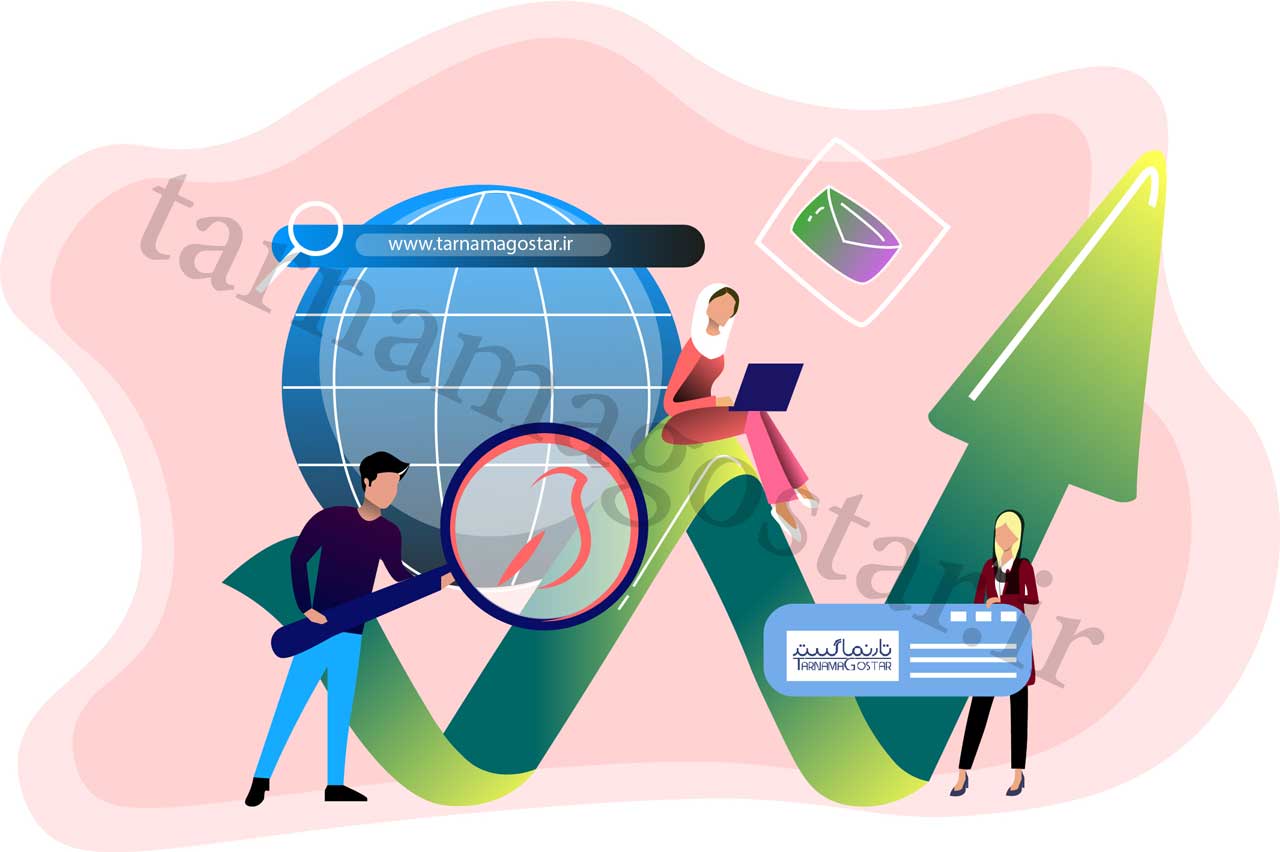 Why Search Engine Optimization
Nowadays, millions of people use search engines such as Bing, Yahoo and most commonly Google to find their answers.
Google is the fastest and most accessible reference for internet users searching for information.
For having more customers and audiences being led to your website you can benefit from SEO.
SEO talks to search engines in their own language and provides them with more data on your website which helps you to compete with other online businesses on internet by helping you to be seen on the first pages of Google search results.
On-page and Off-page SEO put your website on Google's first pages in order to have more visitors to your website
Tarnamagostar's SEO
With more than ten years experience in website design, SEO, digital marketing, application design, graphic design, etc , Tarnamagostar's experts have made SEO services packages in accordance with the needs of their customers. Foundations considering their goals in the competitive market can choose the package which best meets their needs.
SEO should be done constantly and with suitable business strategies in order for your website to earn a high rank in Google search engine; which is the main goal of website design.
Tarnamagostar's SEO Services
- Prior Analysis
- Website Strategy Design
- Campaign Setup and Optimization
- On-page Optimization
- Off-page Optimization
- Tracking and Analysis
- Reporting
For free SEO consult and full list of Tarnamagostar's SEO services call +98 21 8899 8285-6
Prior Analysis
Before any actions in improving SEO, Tarnamagostar's specialists analyze your website's technical features such as:
Website's speed
URL
Host and domain
Internal and external links
Key-words
Website Strategy Design
After prior analysis of your website and your competitors', Tarnamagostar offers a strategy and a SEO road map by implementing which the key-words will earn higher ranks in search engines in the duration determined by Tarnamagostar's experts.
Campaign Optimization
Also after the prior analysis, key-words will be created. Valuable contents will be put on your website monthly and at the end of each month the key-words will be managed and optimized.
Another strategy in campaign optimization is key-word mapping during which key-words will be categorized and a key-phrase will be created for each key-word group.
On-page Optimization
All the actions done inside the website in order for your website to rank up and to be seen by crawlers are called On-page Optimization which includes: Key-word Optimization, URL construction, Content Optimization, Image Optimization, Key-tags, Meta description Optimization, H tags, Internal links, etc.
Following all the standards of on-page optimizations leads to Google's SEO.
Tarnamagostar's On-page SEO services
Tarnamagostar firstly redesigns and rewrites your website with digital marketing approach.
For increasing your website's rank, Tarnamagostar produces valuable content, writes advertorials, builds back links, setups campaigns, optimizes title tag and meta description, optimizes key-words and redirects, checks robot.txt file, updates xml Sitemap file, write reports for broken links, optimizes and corrects key-words, creates anchor texts, etc.
xml Sitemap file
Sitemap is an xml file which introduces all the website pages to the search engines so that crawlers can index the website faster. Tarnamagostar specialists will create a sitemap file for you if there's none already.
robots.txt file
robots.txt is a text file which is of a great importance in your website's ranking. It tells the crawlers which pages to index and which pages to be hidden from Google search engine.
Advertorial
Advertorial is an advertisement news or interview posted on news websites. It increases your website's ranking and helps crawlers.
Tarnamagostar posts advertorials in high ranked news websites with back links inside to help your website's SEO.
Off-page Optimization
In addition to actions done inside the website for improving your SEO, there are other factors affecting your website's rank which are off-page standards. Whatsoever being done outside the website to improve your rank is called off-page SEO. Off-page SEO helps your website to have higher page authority rank.
Some of these factors are:
Back links
Social media
Banner ads
Answering Google's questions on business
Registering on Google map for website
Enrolment in different associations
Tarnamagostar's Off-page SEO services
Tarnamagostar offers a full package of techniques for off-page SEO such as:
Banner ads
Analyzing local businesses
Website structure design
Answering Google's questions on business
Registering on Google map for website
Back linking
Enrolling in different associations
Marketing your business in social media
Analyzing your website with other SEO tools (These may cost you with extra changes)
Reporting
Tarnamagostar, as a successful corporation with experts in its crew, commits to be in a close contact with the manager of your company. One of the terms in the contract between you and Tarnamagostar is reporting and clarifying the work processes which consists of :
Monthly reports
Suggesting changes in website
Contact via e-mail or telephone